Nov 3, 2012
---


Toothless in-game YouTube Video:
Code: Select all
coming soon…………..
Visit my YouTube Channel, 100% gaming video's:
Code: Select all
http://www.youtube.com/user/Toothless010
**I put a lot of work into my screen shots, I dont approve you
to copy/paste my work without asking. I hope others that
enjoy my game topics will agree
***
PC Game: Need for Speed Most Wanted
POSTMORTEM Release
Release Date: 10/29/2012
Publisher: Electronic Arts
Developer: Criterion Games
Platform: PC Games
Genre: Racing
Publisher Support
Number of Players: 1
Online Players: 12
Alcohol Reference, Comic Mischief, Violence
Read more:
Code: Select all
http://www.gamefly.com/Download-Need-for-Speed-Most-Wanted/5004903/#ixzz2ApXkeJVJ
MSRP: $49.99 – $0.00 with pirate discount
Languages:English, French, Spanish, German, Italian,
Russian, Chinese
6.756GB ISO Image
1GB links – 7 Downloads
6.44GB when mounted
Game install is 6.54GB
Game installed on Windows7/64bit/Home Premium
Game Info
To be Most Wanted, you'll need to outrun the cops, outdrive your friends,
and outsmart your rivals. With a relentless police force gunning to take
you down, you'll need to make split second decisions. Use the open
world to your advantage to find hiding spots, hit jumps and earn new
vehicles to keep you one step ahead. In true Criterion Games fashion,
your friends are at the heart of your experience. In an open world with
no menus or lobbies, you'll be able to instantly challenge your friends
and prove your driving skill in a variety of seamless multiplayer events.
Your rivals will do everything they can to stop you from getting to the
top. In this world, there can only be one Most Wanted.
Game Features
-Open World Action – Lose the cops – your way. Hit jumps and shortcuts,
lay low, or shake the cops in surroundings that play to your car's
unique strengths. Freedom is everything. Drive anywhere with your
friends, discover hidden gameplay or utilize your knowledge of the city
to beat them in a never-ending supply of challenges.
-Non-Stop Multiplayer – Pick a car, hook up with friends and jump into
a non-stop playlist of tight, competitive events. No lobby screens means
the action never stops. Score big, rank up and earn endless rewards
and upgrades. Keep the fierce rivalries going between events with
endless opportunities to race, battle and explore in a huge open world.
-Beat Your Friends – Autolog 2 ratchets up the intense competition
with personalized race recommendations and feeds broadcasting all
of your most newsworthy scores, speeds and times to your friends.
Earn Need for Speed points at all times on any system as you try to
outdrive your friends and become the Most Wanted.
-Racing Without Rules — It's survival of the fastest as Need for Speed
Most Wanted fuses the franchise's, authentic "real car" feel with the
intense speed and aggression of Burnout. Power down, slide out, and
battle your way past cops and rivals using pure driving skill, and heavy
doses of nitrous.
Minimum System Requirement
Minimum OS: Windows Vista (Service Pack 2) 32-Bit
Minimum Processor: 2 GHz Dual Core (Core 2 Duo 2.4 GHZ or
Althon X2 2.7 GHz)
Minimum Memory: 2 GB
Minimum Graphics: (AMD): DirectX 10.1 compatible with 512 MB RAM
(ATI RADEON 3000, 4000, 5000 OR 6000 series, with ATI RADEON
3870 or higher performance). (NVIDIA): DirectX 10.0 compatible with
512 MB RAM (NVIDIA GEFORCE 8, 9, 200, 300, 400 OR 500 series with
NVIDIA GEFORCE 8800 GT or higher performance)
Minimum Hard Drive: 20 GB
Minimum Sound: DirectX compatible
Recommended OS: Windows 7 64-Bit
1GB links are interchangable
Billion Uploads 1GB links. 7 Downloads.
6.756GB ISO Image.
Language: English/Spanish/French/German/Italian/Russian/Chinese
5% Winrar Recovery Record included in downloads

Code: Select all
https://safelinking.net/p/16acbbcfc2
password: tooth
PutLocker 1GB links. 7 Downloads.
6.756GB ISO Image.
Language: English/Spanish/French/German/Italian/Russian/Chinese
5% Winrar Recovery Record included in downloads

Code: Select all
https://safelinking.net/p/81a396e799
password: tooth
Check the files you downloaded……….
Quote: Select all
Got Problem Files ??? We got the fix for corrupt files!
1. Within Winrar, run "test archive" to check your files.
2. If you have a problem file, run winrar "repair". Then test again.
3. Re-Download the file again usually fixes the corrupt file.
Still have a problem download?
4. MD5 Hash Value – HashTab provides an easy way to verify file integrity and authenticity.
To check your download with the original uploaded file, compare the MD5 Hash Value.
Code: Select all
google HashTab v4.0.0 Setup.zip or download here: http://implbits.com/HashTab.aspx
-Small file. Add to your system. How it works:
1- after install, right click properties of the file.
2- go to Hash Tab/File Hashes tab
3- program generates a unique number (MD5) to identify a specific file.
-if your number does not match mine, that would be the problem file. You
would need to re-download the file again and that usually fixes the problem.
-This is quite simple to do and we can identity the specific problem file.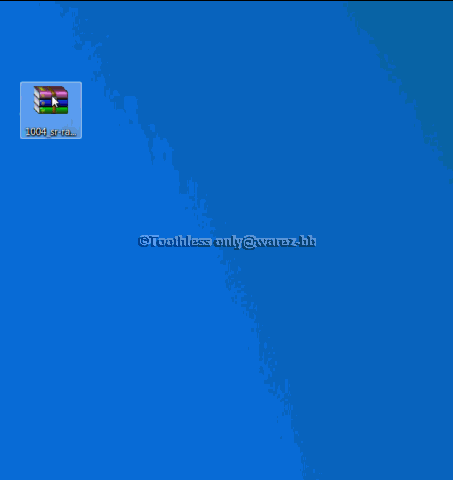 MD5 Hash Value-1GB Most Wanted links
part 01-6C019F289D36D15C7A18B43E42328E72
part 02-74520F01C6F48A9BBC53A69FC715BCF9
part 03-1B63B13653EC4F86D7854B6845187D9C
part 04-793ABEB06C0D73B403ACEC0C9653C3C6
part 05-9E1C772F0DCAABC5E777FF33F0F8CB10
part 06-A642D6ED5A3AEB4061E69843F89320FC
part 07-6FD28C86D38485BB417F92ABFBE1BBB4
ISO image: Most Wanted
CRC32: 3102FEF7
MD5: 51C394C365BBAF1682B4FBB144A5B7B1
SHA-1: C35A1EE8F7AEE82BA3BB7B23E88254F831C4F313
Quote: Select all
About the crack files I post in my topic:
I dont make, alter, or modify original crack files. I only post
cracks from well known cracking groups. ALL game topics I upload,
I test out the game with original crack files and launch the game.
I scan the orignal crack files with McAfee AV at a minimum. If you
are not comfortable with cracking groups altering the binary file,
then dont download. What I post is NOT "tooth's" cracks.
SKIDROW 1.3 patch and 1.3 crack (1), with Downloadable content.
[1030_nfsmw_sr-1.3_dlc.rar 474MB]

Code: Select all
https://safelinking.net/p/9278b0e519
password: tooth
Code: Select all
https://safelinking.net/p/a89e3d8bd4
password: tooth
Quote: Select all
INSTALL NOTES ??? ???????? ? ?????? ?? ??? ? ? ?
???? ?? ?? ? ? ??? ???
???? ?? ? ? ???
??? 1. Unpack release ???
??? 2. Run Need.for.Speed.Most.Wanted.v1.3.Update.incl.Ultimate.Speed.Pack ???
??? .DLC.exe ???
??? 3. Install ???
??? 4. Copy the cracked content from the SKIDROW folder to the main install ???
??? folder and overwrite ???
??? 5. Block the game in your firewall and mark our cracked content as ???
??? secure/trusted in your antivirus program ???
??? 6. Play the game ???
??? 7. Support the companies, which software you actually enjoy!
How to install:
1-download files and run winrar, click on "Commands" "Test archived files"
2-Mount ISO image on your virtual drive
3-follow screen shot install below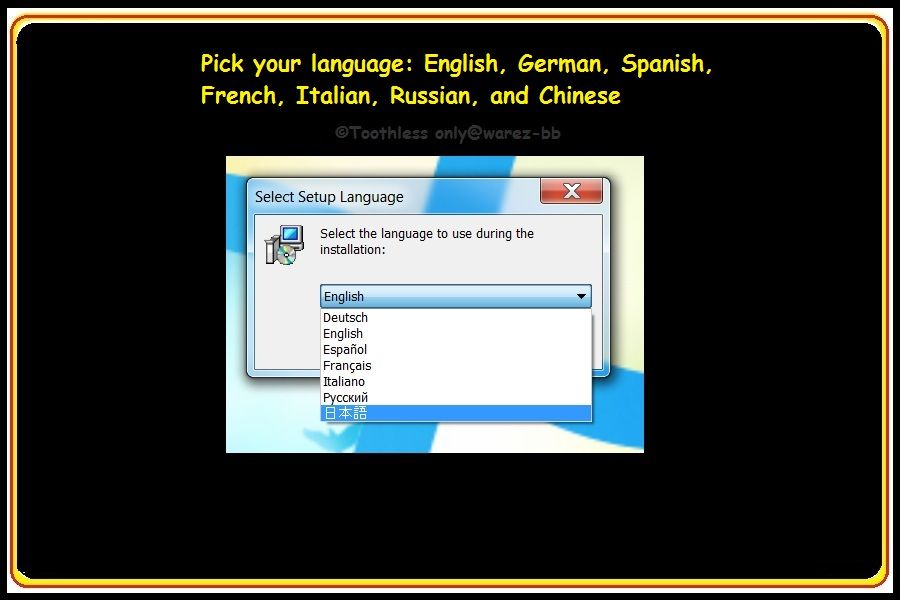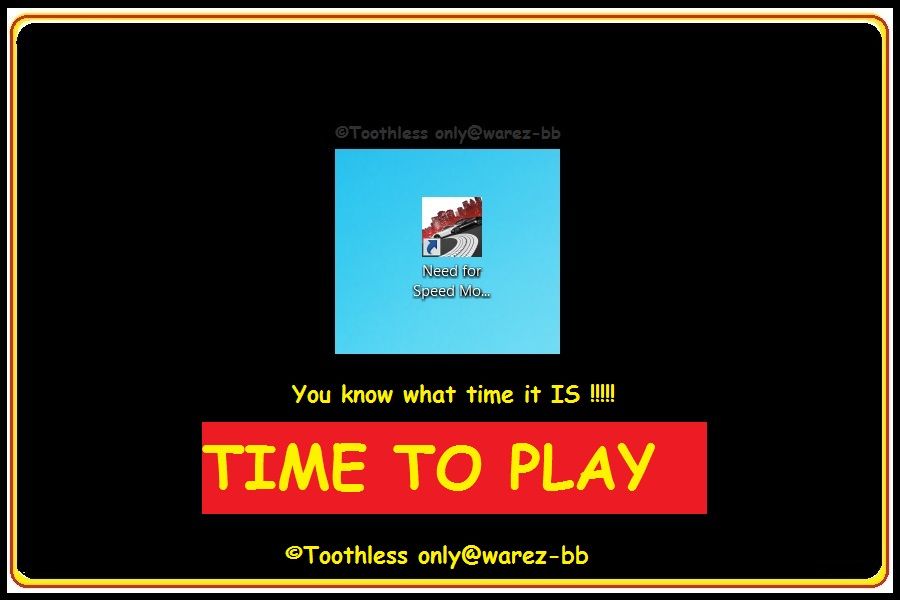 Game Fixes
Prior, old crack downloads:
Quote: Select all
1.0 crack files-POSTMORTEM release crack file (1)
Code: Select all
https://safelinking.net/p/ac44f86b49
password: tooth
Code: Select all
https://safelinking.net/p/7cd9911b09
password: tooth
Code: Select all
https://safelinking.net/p/6dd7d14e54
password: tooth
are you getting this:
Quote: Select all
I get an error like "CRC failed in the encrypted file (wrong password ?)"!
RAR cannot distinguish a corrupt file and wrong password. If it were possible, it
would make encryption weaker. Therefore, such a message may indicate both a wrong
password and a corrupt file.
Most likely it is not a password problem, but a download that was corrupt.
Open Winrar, select "commands" drop down list , "test archived files" to find out
what file/files are giving you this error.
If you identified the problem link do one or more of the following:
1-"winrar repair" the specific file
2-RE-Download the problem link and that should fix your problem.
Toothless
For best performance and video quality, please make sure you have
the latest drivers for your video card and DirectX when running this game.
Latest ATI Drivers:
Code: Select all
http://www.ati.com/support/driver.html
Latest NVIDIA Drivers:
Code: Select all
http://www.nvidia.com/content/drivers/drivers.asp
DirectX End-User Runtime:
Code: Select all
http://www.microsoft.com/download/en/details.aspx?id=35
Microsoft Visual C++ 2010 Redistributable Package (x86)
Code: Select all
http://www.microsoft.com/download/en/details.aspx?id=5555
Microsoft Visual C++ 2010 Redistributable Package (x64)
Code: Select all
http://www.microsoft.com/download/en/details.aspx?id=14632
Latest Creative Labs Drivers:
Code: Select all
http://us.creative.com/support/downloads/
Latest Intel Drivers:
Code: Select all
http://downloadcenter.intel.com/
Latest AMD Drivers:
Code: Select all
http://www.amd.com/
Latest Saitek Drivers:
Code: Select all
http://www.saitek.com/